$5 Give Club
Five dollars can change the world!
Here at SOJO, we want to make an impact not only through the people in our church but through the organizations in our local community. We want to come alongside those in our community who are trying to make a difference. This is why we created the $5 give club. Think about it... How many of us give away $5 almost everyday frivolously. Whether it is a $5 coffee, $5 scratch-off, $5 burger, $5 drink, $5 on amazon or target.
What if... Every person at SOJO took one of those $5 and pointed it at an opportunity to bless someone they may never see, touch or hear; but, knowing that with the efforts of a couple of hundred people combined we were able to make a true difference in and through our community. We as a church can partner with all types of organizations in our region and bless them so they can continue to bless others in and through our community.
Every month we will expose you to a non-profit in our region who is making a difference. We then will ask everyone to give $5 and we can then bless this organization to help them fulfill their mission in our community. This is a really cool opportunity for us as a church to help those who may not ever come through our doors.
March Partner: J-Life
MISSION STATEMENT
J-Life Africa is a non-denominational movement that exists to develop leaders who will mobilize disciple-making movements across Africa. At J-Life, we believe that the best way to bring about lasting life transformation is through life-on-life discipling, which requires of disciple-makers to go deep with each person they are discipling. The more time that is spent in close relationship with disciples, the more the DNA of Christ will be transferred. J-Life seeks to mobilize disciples who will live their lives in such a way, that communities in Africa are transformed by the life of Christ and the Father is glorified.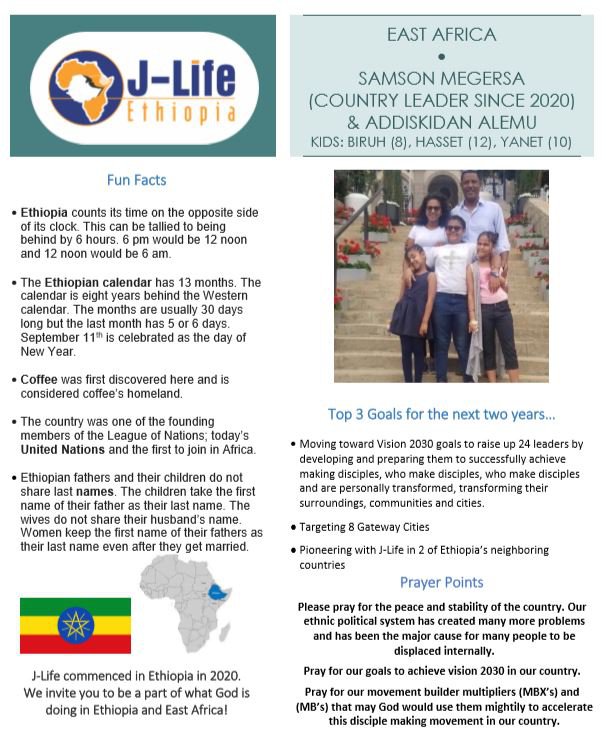 2021 Recipients of your $5 In Action
2020 Recipients of your $5 In Action